This page is to honor some of our Gypsy Horses that make our lives special
They may or may not be for sale and are listed as such.
Caprial is NOT FOR SALE
Clononeen Caprial is a very special mare. Imported from Ireland just after September 11th, 2001, Caprial was never seen in person by her new owners Mark and Shannon Johnson of GlennRainier Farm until she arrived on American soil. Caprial has produced 3 exceptional foals for her owners but her true gift is what is in this horse's heart. She truly has a spirit of peace. Caprial shows kindness and gentleness to what ever she does. It can be teaching her owner to jump a small fence, giving a child their first ride on a horse or spending time with disabled children, allowing their fingers for the first time run through a horses mane. Caprial is the true spirit of a gypsy horse, kindness, caring and the truest gentle nature.
-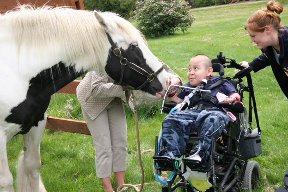 You can see more of Caprial at Glenn Rainier Farm
Shannon Johnson - 360-969-0549 - Glenn Rainier Farm - Enumclaw, Wa.
Website established on May 21, 2004.
© Owned by GypsyHorseForSale, no reproduction without permission.